As we prepare for the arrival of our second son it was time to move our first into his big boy room. Before we could begin anything "fun" we had to strip all the wallpaper from the walls. We have a local rental store that I rented a larger steamer for a weekend to get it all removed. After it was all off we sanded the walls with a drywall sander to prepare for paint. To prime I used Clear Zinsser, Gardz Water-Based Problem Surface Sealer after I applied it I sanded lightly with a block sanding sponge before painting. I painted the room with Sherwin Williams – Alabaster SW 7008. Two coats was enough to get it all covered nicely.
Shop The Post
View the inspiration and ideas we found for this room makeover on our Pinterest.
The white paint made a huge different already but I knew I wanted to add a few fun things to his room. While browsing Pinterest I saw this adorable Bear In Forest wallpaper.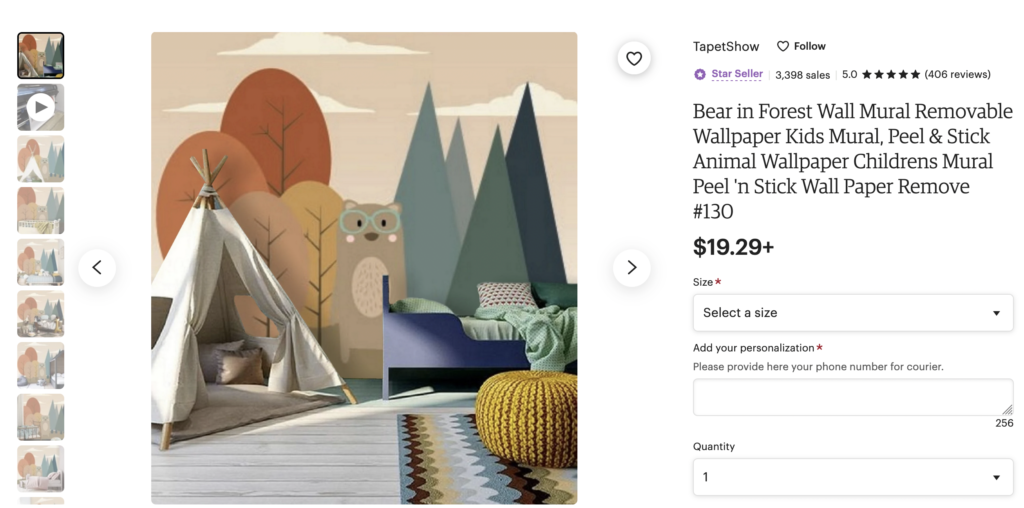 Unfortunately, the sizing wasn't working out with our wall. I had 2 doors, 2 outlets, 3 light switches and a thermostat to work around and I really didn't want those things lined up with where the design was. After a bit of online searching I was able to find a couple stock photos to purchase so that I could design it to fit our wall.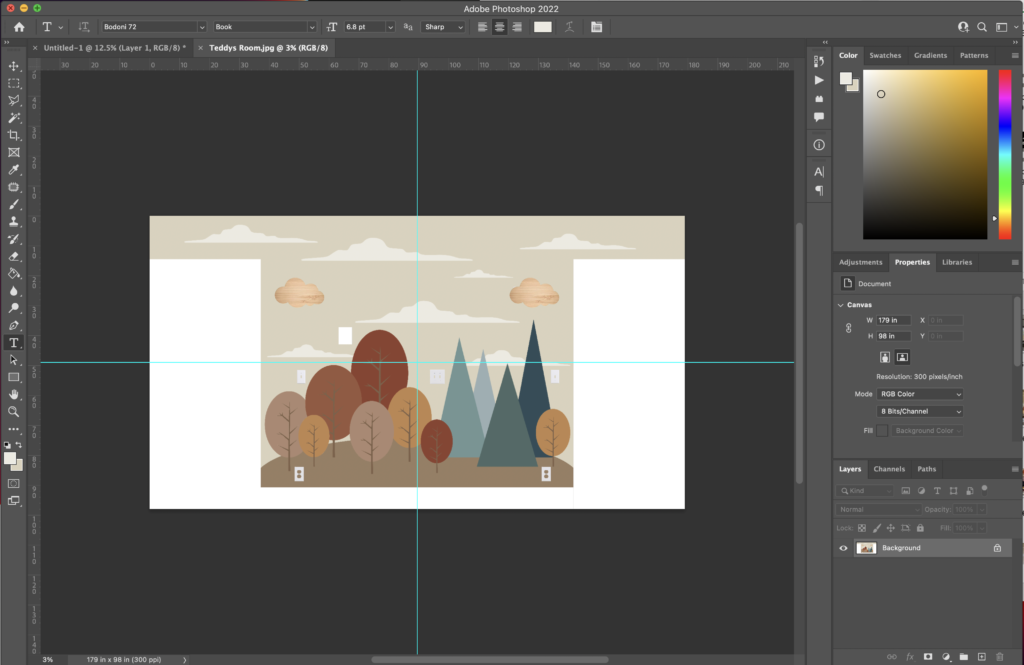 Using Photoshop I made a document the size of our wall and then measured out the spaces where the doors, trim, plugs, switches, lights and thermostat was. After that was finished I brought in elements from the stock photos I purchased and made the design fit around those elements (I love the bear from the original photo and I plan on using them somewhere else in the room so he wouldn't be covered up by the bed). After it was designed I visited the Sherwin Williams website to get the Hex Value for all the color swatch samples I had picked up the day before. Once I tested out some colors to see them all together I had found my final ones and purchased them in little sample pots. The next step was to use a projector to project the image onto the wall so I could trace the design. Our room wasn't long enough to project it all at once so I split the image into 4 parts and projected one area at a time, lining up the area as I moved along. Tracing was the easy part, getting the projector level and lined up was the time consuming part.

I finally had it all traced and I was ready to start painting.
I used all Sherwin Williams paint and colors except for the background color that is Benjamin Moore Manchester Tan HC-81 (we used this for the trim in his nursery and loved it so I knew I wanted to use that for the base tan color). This is also the color we are painting all the upstairs doors (you can see they are currently white and blue).
The Sherwin Williams colors that were used:
Clouds
Round Trees
Triangle Trees
Branches In Round Trees
Hill
I then got to work on his bed. We purchased a twin headboard and footboard from our local Habitat Restore which I stripped and sanded to make a lighter finish. I purchased these bed rail brackets from Amazon and attached it to a 1×8 board cut to the length of the mattress. Then using a couple 2×3 boards and 1×4 / 1×6 boards I created the slats for the mattress to sit on. I still need to stain the 1×8 side rails to match the headboard/footboard better.
While we've been working on the room Teddy has been in there playing and getting used to it.
Travis got the outlets and switches and changed out (we were short the double cover) and we put a locked cover over the thermostat so little fingers didn't push the buttons. I have been searching for two sconces for the room for quite some time now and finally decided I wanted wood clouds ones but couldn't find exactly what I was looking for. I ended up purchasing these rectangle sconces from amazon and cutting out two wooden clouds to adhere to the front metal piece of the light.
I ordered his bedding and some baskets from H&M to help finish his room. We also have a tree bookshelf we are building for another corner of the room (where the bear will be painted on the wall). I'll share more as we get it done as well as the new nursery down the hall.
Shop The Post
Our H&M order arrived!
Shop everything in the links above.