Hey Schitt's Creek Fans!
If you're as obsessed with "Schitt's Creek" as we are, get ready for an epic baby shower/sprinkle inspired by the hilariously heartwarming show that stole our hearts! Whether you're welcoming your first bébé or celebrating your second, third, or beyond, let's gather for a Schitty Baby Shower Extravaganza that's sure to be as memorable as the Rose family's journey from riches to… well, not-so-riches! Read below to gather ideas and find fun party decor!
1. Location: Rosebud Motel (Okay, not really!)
No, we won't be hosting the event at the actual Rosebud Motel, but we can transform any space into a Schitt's Creek haven! Decorate with rustic charm, quirky knick-knacks, and adorable "Fold in the Cheese" signs. A life-size cutout of Moira or Johnny Rose would be the perfect addition to the photo booth!
2. Moira's Wigs and Hats Galore!
Dress up like our favorite diva Moira Rose with a selection of wigs and hats for all guests. From her eccentric collection, guests can pick their favorite to wear during the party! Expect to see chic black-and-white ensembles, dramatic flair, and of course, some "bébé" themed accessories.
3. David's Boutique Nursery
Bring out your inner David Rose by creating a boutique nursery corner! Adorn it with unique onesies, stylish baby shoes, and plush toys fit for a Rose bébé. Add a touch of David's personality with witty and adorable baby onesies like "Ew, bébé!" and "I'm Simply the Best!"
4. The Café Tropical Experience
Recreate the warm and inviting atmosphere of Café Tropical! Set up a coffee and dessert bar with delicious treats that pay homage to some Schitt's Creek classics – "Moira's Crowfruit Smoothie" and "Johnny's Cinnamon Toast Fudge Brownies" are sure to be crowd-pleasers!
5. Alexis' Adventure Corner
Create an activity zone inspired by Alexis' worldly adventures. Guests can participate in a treasure hunt or a "Travel the World" game where they guess the country based on iconic landmarks. The winner gets a souvenir worth "a little bit of effort!"
6. A Schitt's Creek Trivia Challenge
Test everyone's knowledge of the show with a fun trivia game! Prepare questions about the quirky characters, hilarious moments, and unforgettable catchphrases. The winner could take home a "Best Wishes, Warmest Regards" trophy!
7. "Bébé, It's Cold Outside" – Favors and Prizes
Send guests home with personalized "Schitt's Creek Sprinkle" favor bags filled with goodies like scented soaps, mini wine bottles (à la Moira), or even some lip balms inspired by the ever-so-kissable Johnny Rose!
8. Moira's Performance
Lastly, no Schitty Baby Shower Extravaganza would be complete without a surprise performance from the one and only Moira Rose! Recruit a guest to channel her inner diva and give a dramatic reading of her favorite bébé-related lines from the show.
So, get ready to laugh, love, and celebrate the miracle of bébé in true Schitt's Creek style! Remember, no matter the wealth (or lack thereof), a baby shower/sprinkle filled with love, joy, and Schitt's Creek references is simply the best!
"Warmest regards!"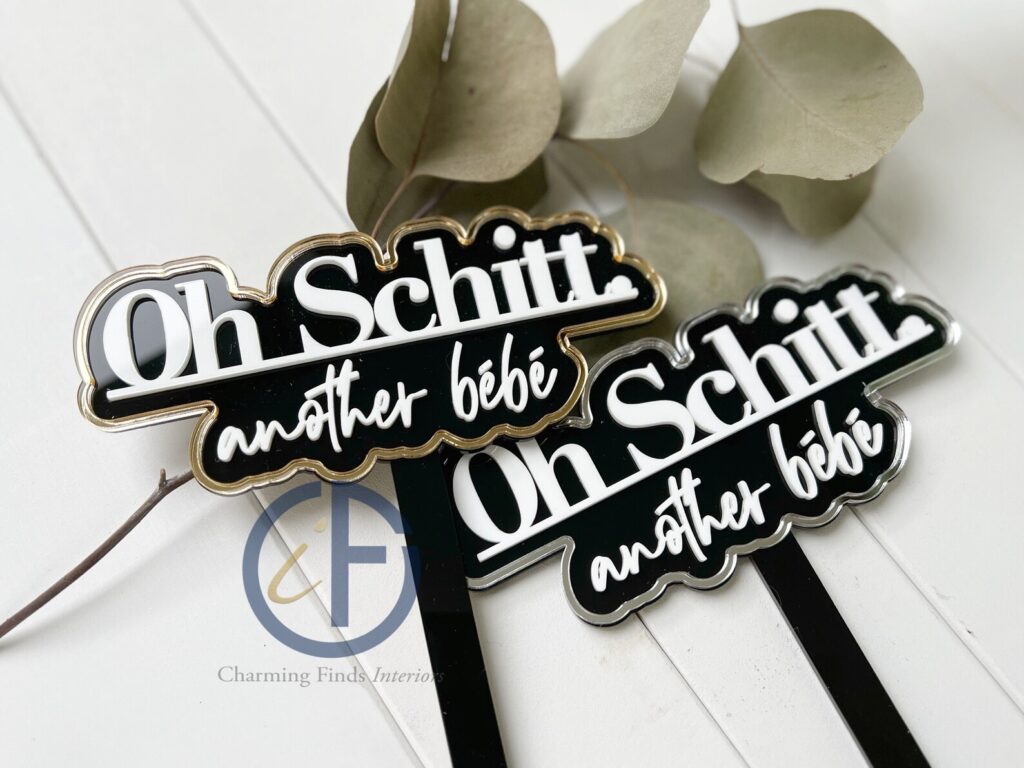 Shop our popular cake topper that I created for my baby sprinkle and has been an absolute hit in our Etsy shop!
Check out lots of fun ideas and inspiration on our Pinterest board below.