Is it just me or are Dad's / husbands hard to buy for? I searched the web to find some unique gifts for Dad this Father's Day. I found some great products on Amazon and Etsy, Etsy I provided more personalized gift options.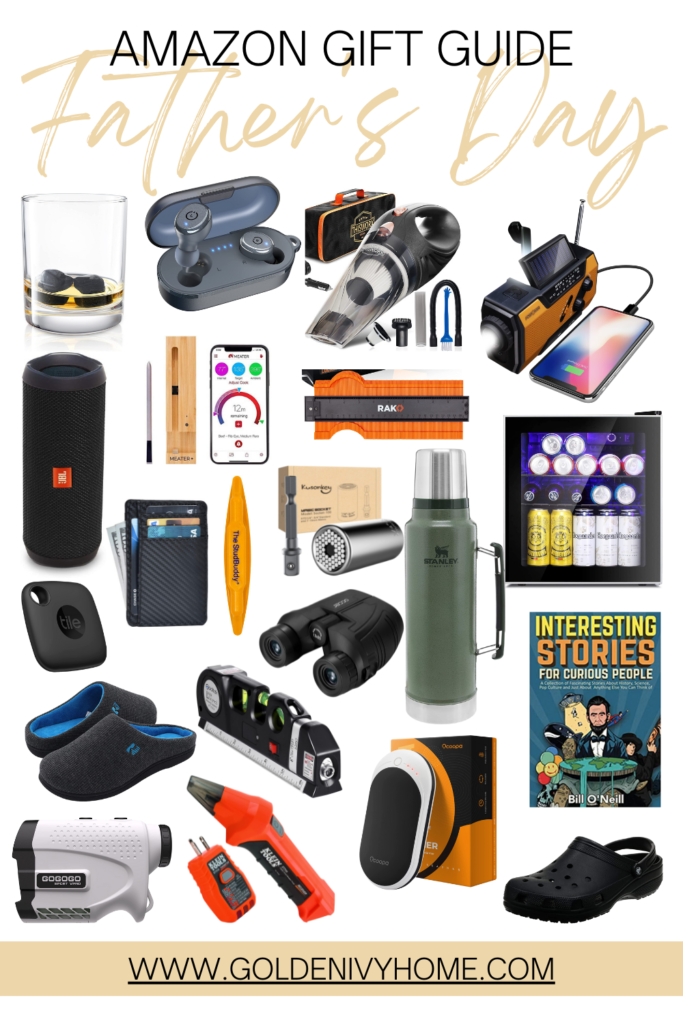 Shop The Post
Set of 9 Grey Beverage Chilling Stones – Contains Nine Chilling Stones Made from Natural Soapstone. Chill Your Drink while preserving its flavor and not watering it down.
TOZO T10 Bluetooth 5.3 Wireless Earbuds – These have 295K reviews and are such an aforadalbe price point. Multiple colors to choose from.
THISWORX Car Vacuum Cleaner – Who doesn't love a clean car! 215K reviews for this mini handheld car vacuum that comes with multiple attachments. Perfect for cleaning up after the kids.
Emergency Weather Radio – I'm note sure if it's just my husband but he likes to prepare and have things on hand that we may need in any situation. Featuring a crank lever radio, powerbank to charge devices and a solar panel for charging (AAA batteries as backup).
JBL Flip – Bluetooth Speaker – 100K people have given this 5 stars. Great for Dad to play music in the garage, on the patio, by the pool or take it camping this summer.
MEATER Plus | Smart Meat Thermometer with Bluetooth – We can vouch for this one! Travis bought it when we moved into the new house and we use it every time we grill. Everything is perfectly cooked. You insert the thermometer and open the app to select your cut of meat and watch it cook.
RAK Contour Gauge Profile Tool – I bought this for Travis for Christmas and it's not a tool you will use all the time but it's been nice to have the few times we have needed.
Antarctic Star Mini Fridge Cooler – What Dad isn't wanting a personal soda/beer fridge? Travis used to have one that sat by his office desk and we just got a new one for his garage workshop.
Tile Mate – I'm sure most of you have heard of the Tile device that helps you keep track of things you misplace often. This new version also allows you to find your phone by double pressing the Tile.
Slim Wallets – Travis switched to these slim wallets a couple years ago and really likes them. He bought a couple as they seem to wear quicker but when it gets to that point he just switches to a new one. Only $8!
The StudBuddy Magnetic Stud Finder – We also have one of these. Finds wood and metal studs behind drywall by locating nails and screws in the studs.
Universal Socket Tool – This was another Christmas present for Travis, again not a tool being used all the time but handy when you need it. A must-have tool for the tool box, which can replace the whole set, make the project more easier and save your time.
Stanley Classic Vacuum Insulated Wide Mouth Bottle – Multiple colors to choose from keeps beverages hot or cold.
Compact Binoculars – 20K reviews, great for keep in the truck or handy at home.
Two-Tone Memory Foam Slipper – 123K reviews for these men's slippers. Multiple colors to choose from.
Laser Level – Combines a fine-tuned tape measure, a triple-positioned leveling bubble and a NEW laser level to provide maximum results.
Hand Warmers Rechargeable – Great for Outdoors, Hunting, Golf, Camping. Press the switch and instantly release the warmth for you. Rapidly warm up double sides in seconds.
Interesting Stories For Curious People – What Dad doesn't need a good bathroom book! This obviously won't hurry them along in there but at least they'll be learning new facts.
Crocs – A classic Dad gift. Great for the summer season.
Laser Rangefinder for Golf & Hunting – The most cost-effective rangefinder you can find on the market to provide you reliable performance for golfing, hunting and other professional application. Both models have slope functions. The slope switch is for tournament legal.
Circuit Breaker Finder – Another handy tool for the toolbox. This circuit breaker finder can quickly and accurately locate the correct circuit breaker in a panel corresponding to the circuit to which an electrical outlet or fixture is connected.
If you are looking for a more personalized gift check out some of these great finds from Etsy.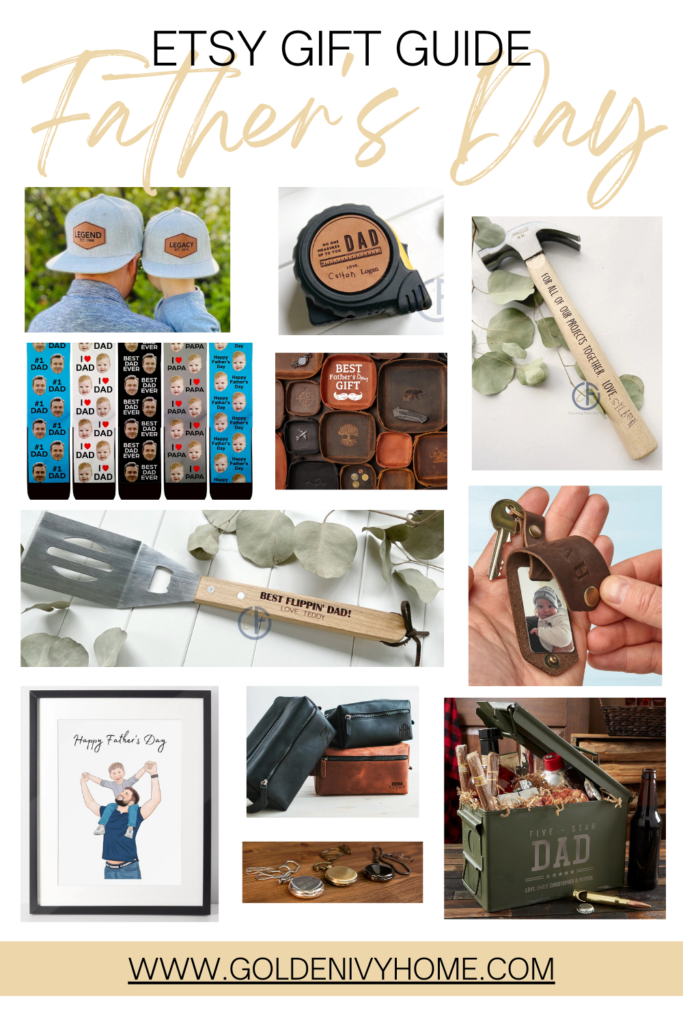 Daddy and Me Hats – Custom leather patch hats are perfect for the men in your life!
Not only does it help keep the sun out of their eyes, it's also SUPER stylish!
Personalized Tape Measure – This personalized tape measure is a great way to show you care. We have multiple designs for you to choose from as well as the option to add your child's handwriting.
Personalized Hammer – Add your own text and child's name / handwriting to a hammer for Dad. You can do single or double-sided.
Custom Father's Day Socks – These are fun one! Travis and I actually unknowingly bought these fore each other for Christmas and I wear mine all the time.
Custom Leather Key Tray – These are so stylish! Great for Dads nightstand to put all the things in.
Custom Grill Spatula – Multiple sayings to choose from plus the option to add names.
Engraved Key Holder with Photo – Personalized keychain is great way to express your love and moreover show how much you care.
Custom Portrait – What a great gift for Dad's office. A custom illustrated portrait.
Mens Toiletry Bag – This stylish bag and be customized with Dad's name, initials or monogram. Great for the Dads who travel a lot.
Custom Pocket Watch – I feel like this is such a classic gift and you can add a personal message to it.
Personalized Ammo Box – Travis received one of these for a groomsman gift and they are so nice!