Now that we have a toddler I thought this would be a good time to share some of our favorite and most used baby items. We used Babylist for our baby shower registry and it was so nice to have one list with items from different places and websites (once you add an item it will compare the price to other stores that have it). It was easy to save items to the list while I was making it and easy for guests to mark the items they purchased. Something I also did with our registry is add all the items we had been buy and just marked them as purchased. That way no one thought we forgot to add an essential item. Also on Babylist you can create a "Private" category, so I would add things here that I liked but maybe weren't right for a baby registry (ideas for first birthday, outdoor play, etc.)
Another fun tip I have is when you are doing your returns and exchanges from the shower to do them in as few trips. Walmart for example only allows 3 non-receipt returns in a certain time period. I was returning duplicate items when we would receive them to stay ahead of things and after my third return they told me I was on a banned list for 6 months and couldn't do anymore returns. They lady said that someone should have recognized I was returning items from a baby shower and informed me of this but by that time it was too late.
OK, let's get into it!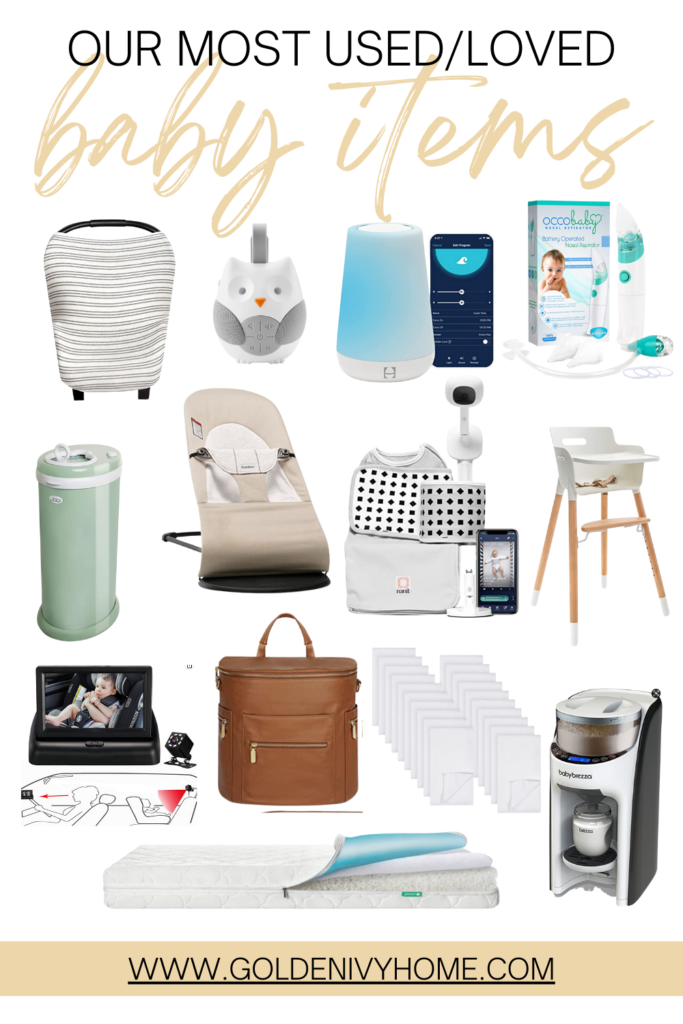 Shop The Post
Baby Car Seat Cover Canopy – We used this every time we left the house. It was great for the cold months to keep the cold air off babies face but we used it in the warm months also to help with wind blowing on him and to keep people from touching him when we were out. Now it does get hot under there so we always made sure to uncover him when we got to our destination or to pull the top down to allow air in.
Skip Hop Portable Baby Soother – Our son loves music we had two sound machines one in the nursery and a portable one. Both of the machines had multiple white noise settings as well as lullaby settings. Teddy preferred the music options over the white noise. I've seen lots of reviews and shares on this one as well: https://amzn.to/3RfmN9j
Hatch Rest Baby Sound Machine & Night Light – Rest combines night light, sound machine, and time-to-rise alarm in one smart bedside device. Customize color, brightness, sound, and volume level and create the perfect sleep environment in your child's room.
OCCObaby Baby Nasal Aspirator – Teddy's least favorite thing but it helps SO much to get the drainage out. We have used it lots already and I'm sure as we enter the chilly season it will come in handy again.
Ubbi Steel Odor Locking – I know everyone has a different opinion on diaper pails but we really liked this one. Now I will also say we always changed him in his room on the changing table, it was the easiest for us. You don't need special bags for it, you can use just your regular trash bags. Multiple colors to choose from.
BABYBJÖRN Bouncer – WORTH EVERY PENNY! I know the price is mush higher than most bouncer seats but it worth it. Teddy loved this seat and we used it the entire first year. It folds up flat for easy storing or travel.
Nanit Complete Monitor System – I put my husband in charge of picking out the monitor for the nursery and I have zero complaints about this one. We did end up purchasing the travel set as well so we could use it in other rooms or when we traveled. The band keeps track of the breathing pattern at night and alerts you if baby stops breathing.
WeeSprout Wooden High Chair for Babies & Toddlers – A couple things I was looking for in a high chair was easy to clean (didn't want fabric), looked nice sitting out, didn't take up a lot of room and could grow with baby. This checks all the boxes. This high chair grows with baby and has adjustable leg heights as well as removable tray. A lot of high chairs have very wide bases and take up a lot of space, this one does not. Someone else told me they had it and didn't like it because the tray didn't slide back to support baby when first sitting in it (a bit slippery with no fabric). We didn't have this issue but Teddy is a bigger boy and fit perfectly in there (started him in in at 5 months).
Itomoro Baby Car Mirror Camera – This is amazing, seriously the best. In my husbands truck we have the regular mirror and I'm not a fan. In my car we have the camera and it sits right on the dash and I can see him perfectly, day and night.
Diaper Bag Backpack Baby Diaper Bag by Miss Fong – I was looking at the Fawn diaper bags and they were pricey (I'm sure totally worth it) but I was hesitant to purchase such an expensive bag and then not like it. I wasn't sure what I was going to like / not like in a diaper bag and this was a perfect one to find out. We still use and love it. I actually just bought their bigger diaper bag tote.
GERBER Birdseye Cloth Diapers – We did not cloth diaper but instead used these for burp cloths. They are thicker than most burg cloths and don't leak through as easily. My sweet friend bought us a pack and embroidered them with cute fabric/designs.
Baby Brezza Formula Pro – I know this a controversial item but I want to say that we didn't have any issues with it. Our son was formula fed and this was so easy to make bottles quickly and at the perfect temp. We did buy a spare funnel so that we had it to change easy (you change it after every 4 bottles).
Newton Waterproof Crib Mattress – 100% breathable & washable with waterproof lining on the toddler side, 5.5-inch thickness, and a soft, quilted removable cover.
There are lots of other products we used daily and loved and I'll work on blog posts seprating them into categories. I know everyone has their own opinions on baby items and every baby is different. This is what worked best for our son and in our home. Leave me a comment to let me know what your favorite baby item is.