Easter is quickly approaching along with warmer temps and sunshine! As I was browsing Amazon this morning I thought I would put together some gift guides for Easter, focusing on outdoor play. Below you will find a guide for babies, toddlers, kids, teens/pre-teens and for the whole family.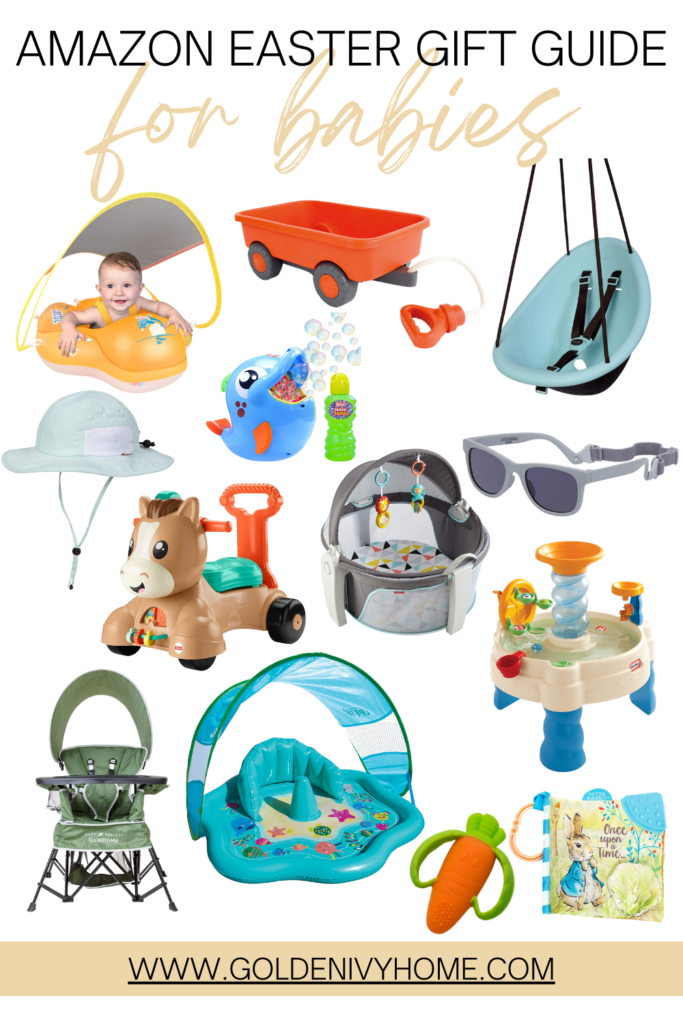 Baby Swimming Float: We had one for Teddy like this last year and it was so great to let him splash around the pong. The canopy is perfect to help protect them from the sun.
Green Toys Wagon: Perfect for pulling around the yard. Fill it with toys or let them help in the garden. Teddy will be getting this for his birthday (Thanks Aunt Ashley)!
Child's First Swing: I love the bucket design of this swing along with the 3 point harness.
Bubble Machine: A great way to keep your baby entertained. 10 spinning wands pour out more than 500 bubbles/ minute
Kid's Sun Hat: A must for summertime. This one is a wide Brim with UPF 50+ Protection. Comes in a variety of colors.
Baby Sunglasses with Strap: Last summer Teddy loved his sunglasses and this strap is an added way to keep them from being thrown. Multiple colors to choose from.
Walk Bounce & Ride Pony: Pony-themed musical walker with 3 ways to play as baby grows from walking to bouncing to riding
On-the-Go Baby Dome: We used this last summer when Teddy was little. It folds flat for easy hauling. I love these silicon straps to hang additional toys or lower hanging toys.
Water Table: Water play table helps develop "put-and-take" and early motor skills with fun characters
Outdoor Portable Chair: Such a perfect outdoor chair for babies 3 months and up. So many features and multiple colors.
Baby Splash Play Mat Seat: I wish I would have known about this last summer. It would have been perfect for hot days, and I love that it had the canopy.
Peter Rabbit Soft Book with Teether and Crinkle: Teddy loves this book and it was great for the younger months.
Carrot Teether: Can you ever have too many teethers? Such a cute Easter themed one and easy to wipe clean.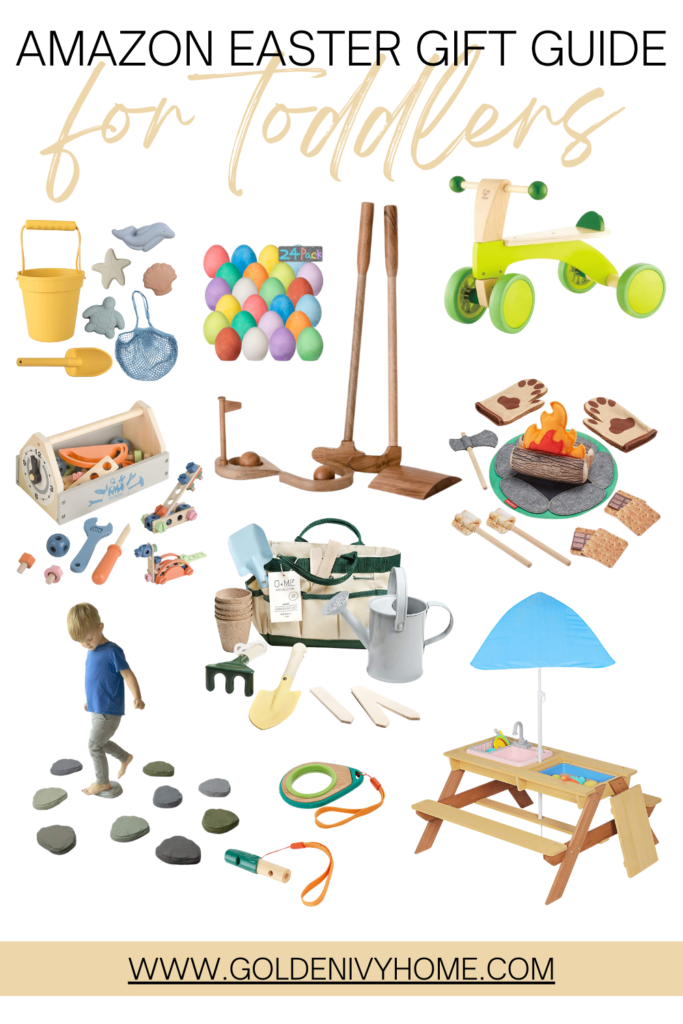 Silicone Sand Toys: Great for the pond, sandbox or take it with you to the beach. Durable, endlessly reusable and 100% free of nasties like BPA, they are a modern alternative to traditional plastic toys. 4 different color sets to choose from.
Sidewalk Chalk Eggs: There is tons of sidewalk chalk to choose from but how cute are these egg shaped chalks. Perfect for the basket.
Golf Set: 2 different kids golf clubs 3-5 help kids get a grip on the game. 2 mini golf course obstacles – arch & ramp – add exciting challenge. Cute hole & flag pole give tots a goal to aim for.
Scoot Around Ride On Wood Bike: Perfect for kids beginning to test their mobility and develop active motor skills.
Wooden Tool Toy Toolbox: Such a great price for a 34-piece wooden toolbox set. They have a tool workbench set as well if you are wanting something bigger.
Kids Gardening Tool Set: If your kids love helping you in the garden this eco friendly set is perfect for them to help along side you.
S'more Fun Campfire: Let your toddles have their own "fire" outside that they can interact with while you roast the real marshmallows for them.
Foam Stepping Stones: Watch as your child sets up balance blocks in limitless configurations both indoors and outdoors. They'll love practicing their coordination by playing fun and healthy games.
Nature Detective Set: Take a gander at leaves, bugs and trees with this fun kid's toy containing 1 x 2 toned Whistle and 1 x 4x magnifying glass.
Kids Wood Outdoor Picnic Table with Umbrella: Kids can share their time with friends, family for craft time, snacking, board and card games, can cultivate kid's creativity and imagination.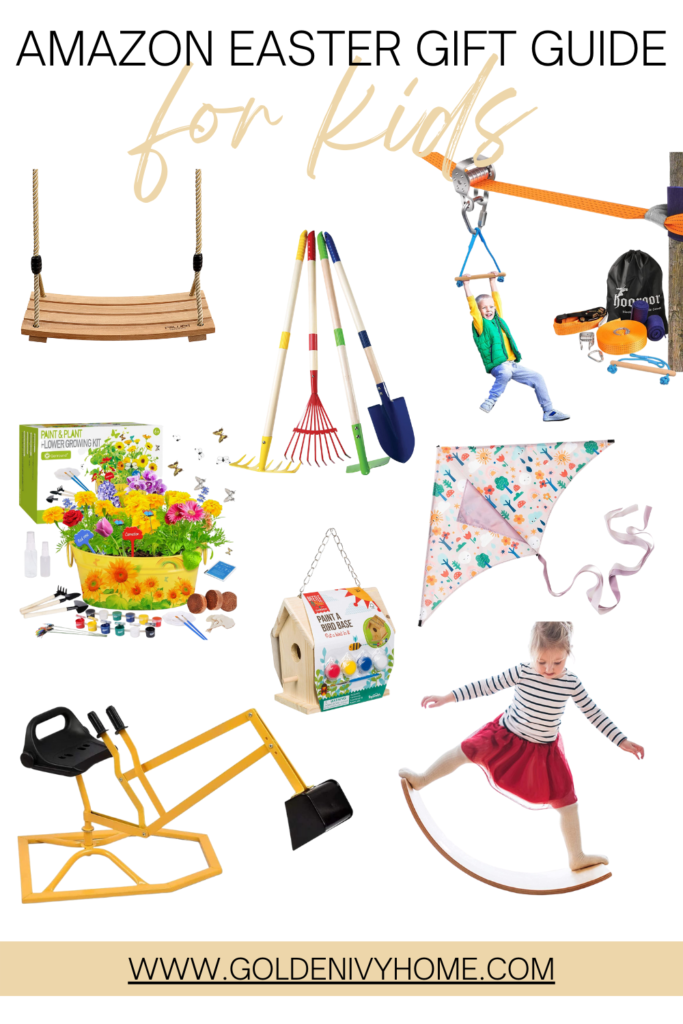 Wood Tree Swing: Do you have a tree in the yard that you thought would be perfect for a swing, this non-slip tree swing is a must.
Garden Tool Set: Spring is the perfect time to get the yard cleaned up. Let the kids grab their tools and help out.
Zip Line: How cool is this?? Slackline Pulley is specially designed for kids over 3 years old, learn to train like a real warrior, overcome all challenges and be the warrior in the most fun ways.
Paint & Plant Flower Growing Kit: Paint and decorate the flower pots according to the children's imagination and preferences.
Paint A Birdhouse: Welcome Birds to the backyard with a colorful new home.
Sandbox Digger: With simple yet practical design, this kids ride on swivel sand digger will make eye-catching addition in beach, garden, backyard and other places. And it not only serves as sand digger, but also uses to dig dirt and snow as well in 4 seasons.
Wooden Wobble Balance Board: This board popped up all over when I was searching. The Wooden Balance Board is whatever you imagine it to be – a swing, a bridge, a shop, a cabin, a stepping stone, a racetrack, a lounge chair, fitness equipment, a puppet, a small football goal, a teeter popper or a tunnel……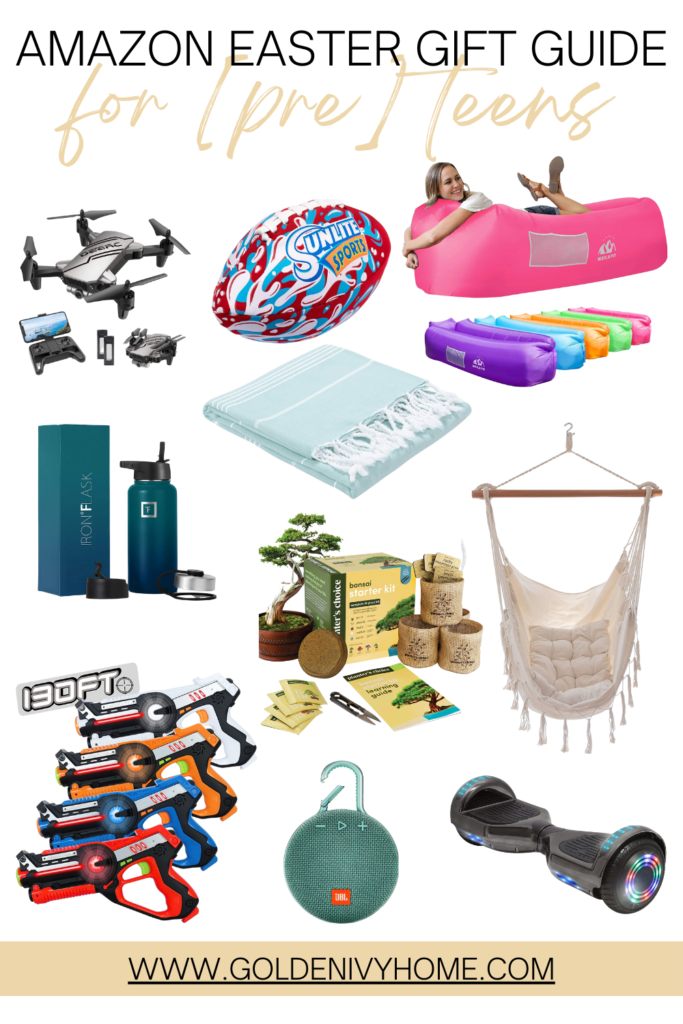 Mini Drone: With almost 10K reviews this would be the perfect addition to your tech loving teens basket.
Sports Football: This water football toy is a perfect family fun for people of all ages. Bring Sunlite Sports football next time you invite your family members to a summer outing!
Inflatable Lounger Air Sofa Hammock: I have never seen this before, it has over 11k reviews and is so cool. No pump required. Just whisk it through the air to inflate. So many colors to choose from.
Turkish Beach Towel: I love this towel, I've had one for a couple years now! It is light weight, super absorbent and dries quickly.
Iron Flask Sports Water Bottle: Everyone needs a water bottle, this one had 90k reviews and so many colors to choose from.
Bonsai Starter Kit: Everything you need to bring the joy of growing bonsai into your or a loved one's life – in one sleek box.
Hanging Hammock Chair Swing: Find the perfect reading spot under a tree and hang this gorgeous chair!
Laser Tag Guns: Children and parents can participate in team battles together, experience exciting moments and share the joy of victory, bring infinite happiness to the family.
Portable Bluetooth Speaker: Never leave awesome sound at home again.
Hoverboard: Enjoy riding our hover boards electric without worrying about battery or charging issues.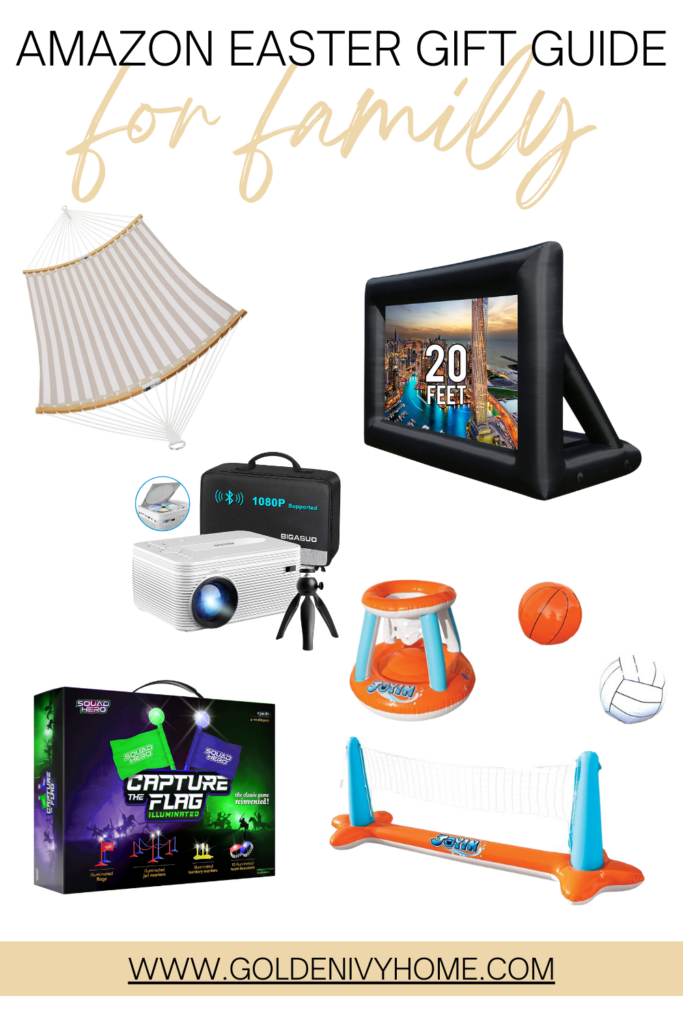 Hammock: It's perfect for patio, garden, backyard, poolside or balcony when you camping, reading, relaxing or sleeping.
Inflatable Outdoor Projector Screen: Bring your family and friends together for a night of endless fun in your backyard great for tailgates and camping adventures. Add this movie night popcorn set.
Bluetooth Projector Built in DVD Player: Relax yourself in a private space, enlarge your happiness with our projector, just enjoy it!
Capture The Flag Game: A fun and exciting gift for all ages.
Inflatable Pool Float Set: Includes an Inflatable Volleyball Court with 2 Weight Bags, an Inflatable Basketball Hoops, an Inflatable Volleyball and an Inflatable Basketball.